TABLE OF CONTENTS
Prologue: The Sandstorm
Part One: Extreme Makeover
One: The Scent of Jasmine
Two: The Counter-jihad
Three: The Big Chill
Four: A Midsummer's Eve
Part Two: A Different Tune
Five: Hip-Hop Islam
Six: The New Chic
Seven: The Living Poets Society
Eight: Satellite Sheikhs and Youtube Imams
Nine: The Axis of Evil Comedy Tour
Ten: Jihad Jones and the Kalashnikov Babes
Part Three: A Wild Ride
Eleven: The Beginning of the Beginning
Twelve: The Diplomatic Pas de Deux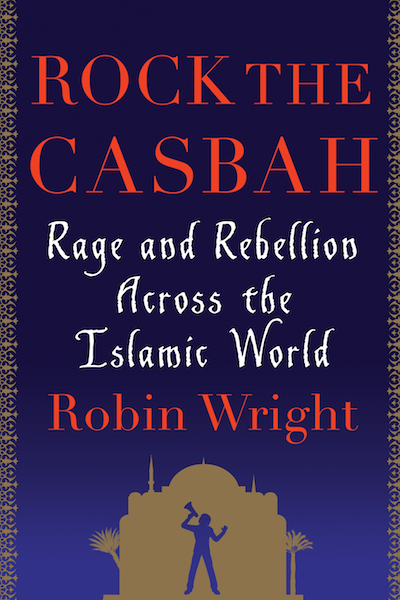 BUY THE BOOK
ABout Rock the Casbah
SIMON & SCHUSTER TO PUBLISH ROBIN WRIGHT'S "ROCK THE CASBAH" JULY 12, 2011
New York, N.Y., -- Simon & Schuster will publish Robin Wright's book, "ROCK THE CASBAH: Rage and Rebellion across the Islamic World" on July 12, 2011. Wright, the acclaimed foreign correspondent and television commentator, was well into her work on the many political, social, cultural, young, grassroots, and female forces changing the Islamic world when protests erupted across the Middle East. Many characters in Wright's book have been involved in the upheavals. The publication date has been accelerated to July because of the extraordinary history now unfolding.
Wright has reported on Islamic militancy for four decades. In this book, she tells the stunning personal stories behind the rejection of both autocrats and extremists in the Muslim world. Wright profiles young techies mobilizing political uprisings, clerics publicly repudiating Osama bin Laden, Muslim comedians ridiculing militancy, hip hop artists rapping against guns and bombs, playwrights and poets redefining jihad, feminists reinterpreting the Koran, and militants denouncing violence.
She describes the new phase of the Islamic activism as a counter-jihad. For some, it's about reforming the faith. For others, it's overhauling political systems. For all, it is about basic rights—on their own terms and not necessarily based on Western models. Muslims are now confronting extremism and rescuing their faith from a virulent minority, thereby taking charge of history and doing what the West cannot.
Robin Wright has reported from more than a 140 countries on six continents for The Washington Post, The Los Angeles Times, The New Yorker, The New York Times Magazine, Time, The Sunday Times of London, The Atlantic, Foreign Affairs, the International Herald Tribune and others. Her foreign tours include the Middle East, Europe, Africa, and Asia. She has appeared on Meet the Press, This Week, Face the Nation, Charlie Rose, Stephen Colbert and morning and evening newscasts on NBC, ABC, CBS, PBS, CNN and MSNBC. Wright has been a fellow at the U.S. Institute of Peace, Brookings Institution, Woodrow Wilson International Center for Scholars, Carnegie Endowment for International Peace Yale, Duke, Stanford and others. Among many awards, she won the U.N. Correspondents Association Gold Medal for coverage of foreign affairs, the National Magazine Award, and the Overseas Press Club Award for "best reporting in any medium requiring exceptional courage and initiative." The American Academy of Diplomacy selected her as the journalist of the year in 2004. She has authored five books.